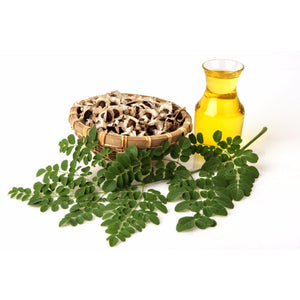 Moringa Essential Oil
This well-known essential oil can be used for varieties of alternative healing purposes. All parts of this herbal tree is considered as to possess medicinal properties and used in the treatment of rheumatism, venomous bites and as cardiac and circulatory stimulant. This herb is known as laxative, expectorant, diuretic, and good for inflammations, bronchitis, asthma and piles, Research suggests that the use of this oil helps to lower blood pressure and gives strength to the heart. It is very useful in minimizing external and internal abscesses.
Study shows that this plant based oil can help patients with lowering diabetes and thyroid disease. This oil can help to reduce muscle cramps and pain. Moringa oil is supposed to increase breast milk production.
Precautions:
It is generally a safe oil, but the naturally-occurring compounds found in the root, bark, and flowers of moringa may make the uterus contract. So during pregnancy it is safer not to use the moringa oil to avoid any miscarriage or complications.